'Miss Indy' (otherwise known to her friends) is a 'Cruise' daughter, her pedigree is tightly line bred on Potter, she has an amazing temperament with that PICK ME, PICK ME attitude that I just love and she has passed this quality on to her kids, grandkids & now great grandkids!
Call name: 'Miss Indy'
Hips: OVC Certified Clear * # 014423
Eyes: Certified Normal - Aug, 2002
vWD DNA: VetGen - Certified Clear # 22149
Thyroid: Clear TGAA:Negative
Height: 14 3/4"
Color: Tri - Bi factored
5 Generation Pedigree: View
From her first litter leased to Triadic Shelties, "Miss Indy" proved herself by producing BPIG, Multi Group winning Champions on both sides of the border. Special congratulatins to Multi Group Winner - CAN/AM Ch Triadic L'Oreal on obtaining her American Championship in record time & making her debut at the 2006 Westminster Show! 'Miss Indy' is new owner Patty Schiller of Triadic Shelties, we wish Patty much success with Miss Indy and her children...
"Miss Indy's" kids in the Winners Circle on both sides of the border..

" Crinan's Miss Independence " leased to Patty Schiller of Triadic Shelties.
First Litter Produced 3 Champions
Bred by Triadic Shelties, sired by Multi BPIG Can Ch. Penpals Triadic Hot Wheels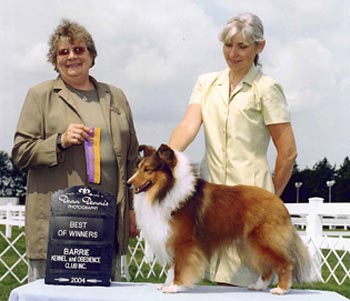 BPIG Can Ch Triadic Cool Wheels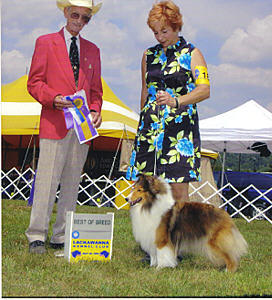 Multi Group Winner Can/Am Ch. Triadic L'Oreal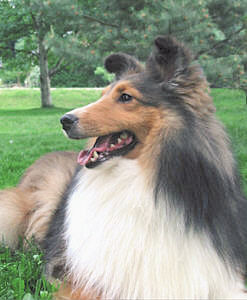 photo by: Images By Evelyn
Can Ch.Triadic The Magic Of Crinan - Owner: Evelyn Susin of Crinan Shelties
Maggie is a puppy back from Miss Indy's first litter and we could not be more pleased with this young girl..
---
" Crinan's Miss Independence " leased back to Crinan Shelties
Second Litter: Bred by Crinan Shelties
sired by Am Can Ch Virgo Broadway Joe
Whelped Sept. 22/04 - Breeder/Owner Crinan Shelties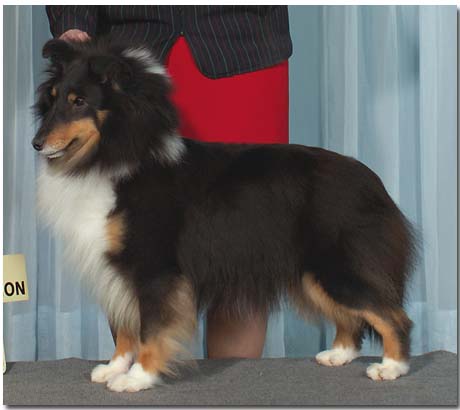 'Colby'
Ch Crinan's Miss Innocence
Breeder/Owner: Evelyn Susin of Crinan Shelties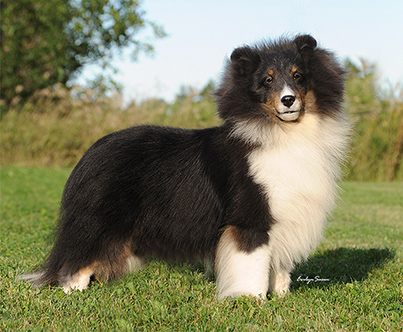 Porscha
Ch Crinan Strike A Pose
Dam of 3 Can & 1 Am Champion....
Breeder/Owner: Evelyn Susin of Crinan Shelties