MOTCH & ATCH Crinan's Not An Illusion ADC, AGDC,
JWW Bronze Award of Merit, Gold Award of Merit
'Tessa' achieve her GOLD AWARD OF MERIT 2009 @ 12 Years young!
Silver AAC 2008
17th - AAC NATIONALS 2007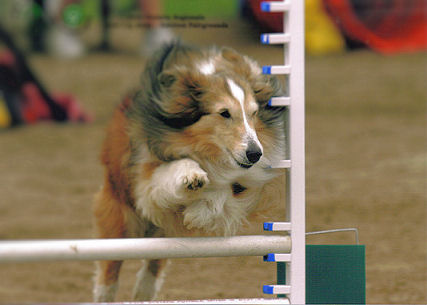 Tessa pictured @ 11 years young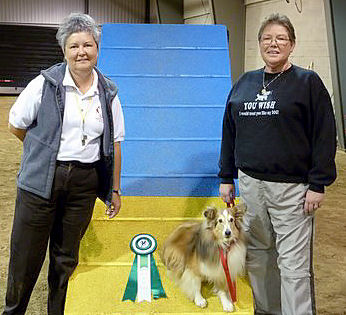 Tessa pictured @ 12 years young winning her GOLD AWARD OF MERIT - 2009
Can Ch Crinan's Immortal One ex Crinan's High IQ C.G.C., C.D., C.D.X, U.D./OTCH
Sept 9th, 2007 at Royackers in Ariss - Tessa achieved her ATCH (Agility Trial Championship)Title at 9 years young. Tessa was awarded Bronze Award of Merit. Both with a first place finish. She was smoking today!!!
# 2 Sheltie - # 4 Herding & # 6 All Breed in Canada - 2003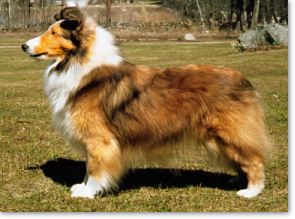 "TESSA - TITLES"
COMPANION DOG
COMPANION DOG EXCELLENT
OBEDIENCE TRIAL CHAMPION
MASTER OBEDIENCE TRIAL CHAMPION
#2 SHELTIE, #4 HERDING & #6 ALL BREED IN CANADA IN OBEDIENCE - 2003
JUMPER WITH WEAVES
AGILITY DOG OF CANADA
AGILITY GAMES DOG OF CANADA
MASTER JUMPERS DOG OF CANADA
NUMEROUS HIC'S 1ST AND 2ND PLACINGS
ADVANCED AGILITY DOG OF CANADA
MASTERS AGILITY DOG OF CANADA
MASTERS STEELECHASE TITLE
STARTERS GAMES DOG OF CANADA TITLE
ADVANCED GAMES DOG OF CANADA
MASTERS SNOOKER DOG OF CANADA
MASTERS GAMBLER DOG OF CANADA
MASTERS TEAM DOG OF CANADA
AGILITY TRIAL CHAMPION
BRONZE AWARD OF MERIT
PLACED 17th AT THE AAC NATIONALS 2007 & BRONZE AWARD OF MERIT at 9 years young!
SILVER AWARD OF MERIT - 2008
GOLD AWARD OF MERIT - 2009 @ 12 years!

Tessa & Denise story...
Oct 25, 2009: Tessa achieved her GOLD AWARD OF MERIT that's 50 Standard Q's and over 100 Games Q's since she first started Trialing in August of 2005 at the age of 8 and she is now 12. VETERAN DOGS ROCK!!!!!!!!

March 22 2008, "Tessa" wins her Silver Award of Merit with a first place finish. Congratulations on this milestone!
Sept 9 2007, "Tessa" obtained her Agility Trial Championship & awarded BRONZE AWARD OF MERIT ( at 9 years young)!
Aug 2007, "Tessa" placed 17th at the AAC Nationals. What an amazing team - we congratulate both Tessa & Denise on their achievements in the world of Obedience & Agility...
Aug 21, 2006 "Tessa" achieved her Master Agility Dog of Canada "MADC & first place! Way to go Denise & Tessa!
July 16, 2006 at Canada Cup "Tessa" achieved her Advance Agility dog title with a second and a first placing, She also obtained her Master Jumper Dog Title and obtained two more legs in the Steeplechase division with a first and second placing.Not bad for 8 1/2 years old. I was so..... proud of her.

She now is known as MOTCH Crinan's not an Illusion ADC, AADC. SGDC, MJDC, JWW (this is a CKC Title -Jumper with weaves) and she only needs one more standard leg in a CKC sanctioned event to obtain her title. "Who says you can't teach an old dog"

Oct 1st, 2005 "Tessa" recieved her SGDC (Starters Games Dog of Canada) Title today as well winning for the highest combined Advanced standard and Advanced snooker scores. She also placed first in Starters Gamblers with 66 points.Now known as MOTCH Crinan's Not An Illusion ADC, AGDC.
May 12, 2004 - The results are in "Tessa" is now official the # 2 Sheltie, # 4 in Herding Group & # 6 in All Breed in Canada for 2003. Words cannot describe how Honored and Proud of Tessa's achievements for 2003 and congratulations to Denise for her dedications in handling "Tessa" to all her Titles and Wins. "Tessa" is now gettting ready for the Agility ring and we cannot wait for magic to continue....


May 17, 2003 "Tessa" obtains her Masters OTCH at the Kitchener Show. "Tessa" has won the hearts of all with her outgoing personality in the ring. Crinan congratulates "Tessa and Denise" for their outstanding achievements in the obedience ring, "Tessa" now will be competing for points to obtain her Masters MOTCH and I am sure the audience will be pleased to see the magic continue...

After campaining Tessa this year(2003) she has earned 180 points we believe she has made the top ten in the herding breeds. She gained 29 points at her last show of the season last weekend and had a run off against one of the dogs that is in contension for no #1 All breed who also has his Grand Masters OTCH and Beat him for second place in Open with a score of 198. Not bad eh!! Only one point behind the High in Trial who had a 199.... Will post her placing in the new year.

"Tessa" Bio:
"Tessa" was not enamored with the conformation ring. But not to be outdone by her mother "Brodie", she obtained her C.D. title at her very first show at 15 months old taking High Point Sheltie of The Day, two HIC's with an average score of 195. At 26 months of age "Tessa" obtained her C.D.X title at three consecutive shows with an average score of 191 (she would not stop herding her human mom in the ring much to the delight of the judges and all who were watching). In between this "Tessa" obtained one certificate in Agility. "Tessa" is currently learning how to be a Couch Potato but will soon be in training for her U.D./OTCH title.
Congratulations to Denise Edgar and "Tessa" on receiving her U.D./OTCH title and placing second in her class on Dec. 9, 2001. We are all very proud of their achievement!
Trained, handled and absolutely
loved by her owner Denise Edgar.